Maze Zone
Plot: A hive-like ship has whipped out an entire rural town, leaving behind no trace of life. The military discovered this tragic event and immediately took action before things escalates further. Covering up the tragedy, the Gov instructed immediate orders of keeping this confidential from the public while plotting their move of eliminating this massive threat. Upon studying and analyzing, the base discovered that these "unknown flying objects" are really drone like creatures with an metallic hard-like body. Now prepared with enough knowledge, the military is ready to make their move, sending out the air force to strike. The force fought hard, but became out numbered by the enemy taking many of their lives. However, a very skilled pilot fighter was able to fight back with his sharp instincts and decisive thinking while he battle his way inside the enemy's hive. Only then, he truly realized that this battle has JUST BEGUN!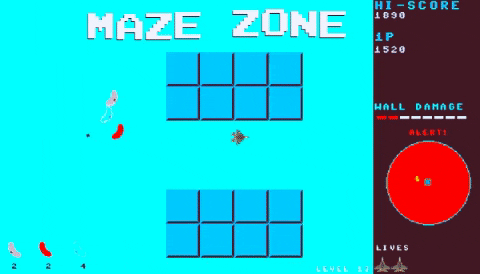 Objective: Shoot all the drones within the level in order to move on to the next stage.
CONTROLS:
| | |
| --- | --- |
| MOVE UP | W / Z |
| MOVE LEFT | A / Q |
| MOVE DOWN | S |
| MOVE RIGHT | D |
| SHOOT/COMFIRM | SPACE BAR |
| PAUSE GAME | P |
Note* This game supports international keyboard settings. So French/Belgium keys are supported in this game. (Player can use the "Arrow Keys" to move as well.)
Features: This game includes...
More challenging enemies with unique abilities
Two-Player Mode
More good music through out the levels
International Keyboard Support
Nice long gameplay time
Over 20 Levels!
AND a "Special Badge" that gives out HUGE POINTS!!!
About the game: Maze Zone is a 2D retro shooting game that brings back the classic style of arcade games in 2021. The game is meant to be a challenge while testing the players as they try to navigate and shoot up the drones through out the mazes. There's no give outs here, or skipping a level just because it's "hard". Just a simple game, for real gamers, looking for a real challenge.
TIPS and HINTS
Look for the "boxed" area within the levels. Badges will appear in the center of them. Collecting them earn you points.
Avoid gliding too close along the walls.
Death collision into the enemy won't earn you points.
The enemy icon on the bottom left of the screen indicates the enemy type and the current total of the enemy type within the maze.
Purchase
In order to download this game you must purchase it at or above the minimum price of $3.99 USD. You will get access to the following files:
MAZE ZONE Windows.zip
102 MB